Oscar Pistorius trial – live coverage – Tuesday 6 May 2014
David Smith has filed a report from the high court in Pretoria; you can read it . He writes that Pistorius has denied attempting to intimidate Kim Myers, a friend of Reeva Steenkamp, in court today by asking her: "How can you sleep at night?"
Myers' mother, Desi, who regularly sits beside her in the public gallery, was said to be furious about the incident.

Police warrant officer Barend van Staden confirmed that he had heard Pistorius say: "How can you sleep at night?" and reported it to the chief prosecutor, Gerrie Nel.

But when reporters questioned Pistorius about the claim, he replied: "No, I haven't spoken to her."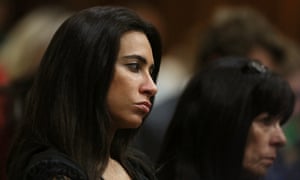 That's it for the live blog for today. A reminder: the court is not sitting on Wednesday, as it's a public holiday for the South African general election. The trial will resume on Thursday 8 May.
Updated
My colleague David Smith, who has been in court in Pretoria, has some more details on this allegation that Pistorius acted in an intimidating manner towards Kim Myers, a friend of Steenkamp, today:
The NPA is the of South Africa, which has the power to institute criminal proceedings on behalf of the state.
I should repeat that one of Pistorius' lawyers and the athlete himself
that one of Reeva Steenkamp's friends, Kim Myers, who has been in court to follow the trial, was upset today after the athlete allegedly muttered to her: "How do you sleep at night?" The comment was allegedly made today during a break in court proceedings, although it was not heard by reporters in the room.
Brian Webber, a member of Pistorius' legal team, : "I'm not even going to dignify that with a comment. It's grossly untrue. He never said anything of the sort."
Pistorius himself also denied it:
Closing summary
, the court has wrapped up early, after the defence witnesses finished their evidence more swiftly than expected. Today the court heard from three of Pistorius' closest neighbours, : Michael Nhlengethwa and Eontle Nhlengethwa, who live next door to the athlete; and Rika Motshuane, whose house is behind Pistorius' property.
• The three witnesses all heard a man crying on the night Steenkamp was shot and that it was a "high-pitched cry". The defence claims that prosecution witnesses who previously told the court they heard a woman's scream had in fact heard Pistorius, who it says screams like a woman when distressed.
• The two female witnesses were asked by the defence counsel, Barry Roux, to replicate the cry they heard that night. Each made a , .
• All three testified that they did not hear a woman screaming.
• Michael Nhlengethwa Pistorius introduced Reeva Steenkamp to him as "my fiancée" days before she was killed, and that to be closer to her.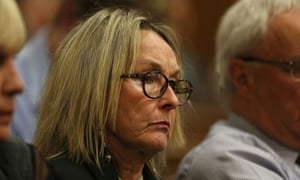 • His wife, Eontle Nhlengethwa, said she heard a loud bang, . – described by some earlier witnesses as gunshots, but which the defence says were the thumps of the cricket bat breaking down the toilet door – and thus after Steenkamp had been shot.
• initial approaches made by police officers after the shooting were informal and rude and he initially declined to talk to them. He to Captain Mike Van Aardt.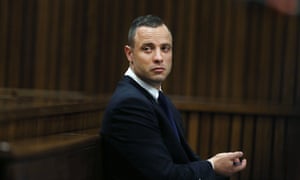 • , despite the frequent adjournments and early finishes, that he believes the defence could conclude its case by next Tuesday.


Updated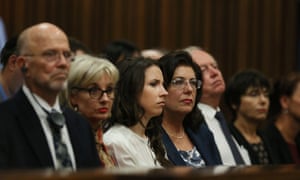 The court finishes for today
Roux has run out of witnesses again. He asks that Nel puts forward more questions to his witnesses when the court is back on Thursday (the court is not sitting on Wednesday as it is a public holiday for the South African general election).
The court adjourns until Thursday morning.
I will post a summary of today's evidence shortly.


Nel asks if she has been following the case on the television. She has, she says, after she was told the court – presumably the prosecution – would not be calling her to give evidence.
Nel asks if she heard gunshots. She did not.
The state has nothing further. The defence hasn't either. So Rika Motshuane is excused.


Motshuane insists she only heard a man crying. She says she did not hear a woman screaming.
Roux has finished. Nel now starts cross-examination for the state.


Updated
Motshuane says Officer Hilton Botha – the original lead investigator in the case – later approached her for a statement. (Botha was after it emerged that he was facing attempted murder charges in a separate case.)
Updated
Motshuane continues. She and her husband were panicking, she says; they did not dare to switch on the lights. They heard a car outside. She shows the court on a photograph the bedroom window from which she looked out, facing the street where Pistorius' house is. She saw the Mini Cooper belonging to Carice Viljoen.
They couldn't get back to sleep, she says. They could hear more cars, including the security car. She decided to phone security to find out what had happened, but nobody answered the phone.
Her husband later got through and was told security was taking care of the situation. They went back to bed.
"I heard a man crying"
Motshuane says she was woken in the early hours of 14 February.
I heard a man crying. To me, my lady, it was a cry of pain.

I woke my husband up. I said, do you hear? He said yes, but I thought I was dreaming.

I said the crying is real. I was panicking … I said it could be that one of the security guards has been shot.

We were all frightened.

The crying was very loud and very close. I even thought it could be in the house.
Roux asks her to attempt to replicate the cry she heard. She wails, in a high-pitched voice.
Updated
Motshuane says she met Pistorius only once, in 2008, when she moved into her home on the estate. He came round to welcome them; they weren't in so they later went to his house, briefly, to say hello. She and her husband lived in the house directly behind that of Pistorius.
The court is back
The next witness is on the stand. , she is Rika Motshuane, another of Pistorius' next-door neighbours.
Updated
The next witness is due to be Rika Motshuane, another of Pistorius' neighbours. She lives next door to him, on the other side to the Nhlengethwas.

Updated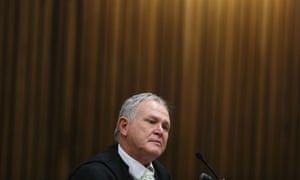 Defence says its case should finish by next Tuesday
Roux is apologising for the lateness of the next witness; like yesterday, he had thought the first two witnesses would spend longer giving evidence. The court will break until she arrives (there are problems with parking, he says). She will be the last witness today.
Nel jokes that nobody has ever accused him of not "asking enough questions" before, but does not object to another 30-minute adjournment.
In mitigation, Roux insists his defence case is well within its timetable and he believes he can finish by Tuesday next week.
Nel cites the evidence of Dr Stipp – he testified that he heard "help, help, help" after the second set of bang sounds (the ones the defence claims were in fact the cricket bat on the door). He suggests to Nhlengethwa that the bang she heard must have been from this second set – that is, after Steenkamp had already been shot.
The questioning of Eontle Nhlengethwa is finished.
Updated
The prosecutor is struggling to get more detail about the kind of noises the witness heard.
Nel: This bang sound you heard … what can you remember of the sound?

Nhlengthwa: There is no other way I can explain it. It was just a bang sound.
The court is back
Nel is still questioning Eontle Nhlengethwa. He is focusing on the bang and "help, help, help" she heard.
Why did the state not call these witnesses?
Reporters in court in Pretoria say there is much speculation about why the defence witnesses we've heard from today and yesterday were not called by the prosecution; all were originally slated to be state witnesses. Today's witnesses – Michael Nhlengethwa and Eontle Nhlengethwa – were Pistorius' closest neighbours.
– Johan Stander and his daughter Carice Viljoen – were the first people on the scene, and had expected to be called for the prosecution.
There is, , also the curious omission from both state and defence witness lists of Frank Chiziweni, Pistorius' housekeeper, who was in the house on the night Steenkamp was killed.
Updated